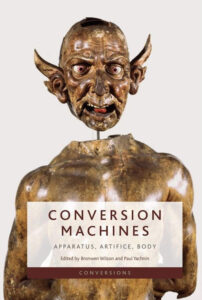 Professor Wilson's new book entitled Making Worlds: Global Invention in the Early Modern Period, is available now.
It considers the interconnectedness of the world in the early modern period.
This collection intelligently examines the interdisciplinary phenomenon of making worlds, with essays from scholars of history, literary studies, theatre and performance, art history, and anthropology. This book includes an essay by Professor Kris Kersey.
The second book entitled Conversion Machines: Apparatus, Artifice, Body comes out this June, and is currently available for preorder. It contains essays by both Wilson and UCLA​​ Ph.D. Candidate Anthony Meyer. This insightful piece examines how mechanisms of change and conversions harrowed and transformed early modern people and their world.
UCLA Art History graduate student Cynthia Fang served as a research assistant for both books. Congratulations to her for her hard work!
To order Making World, please click here.
To preorder Conversion Machines please click here.